Designed by Farah Fayyad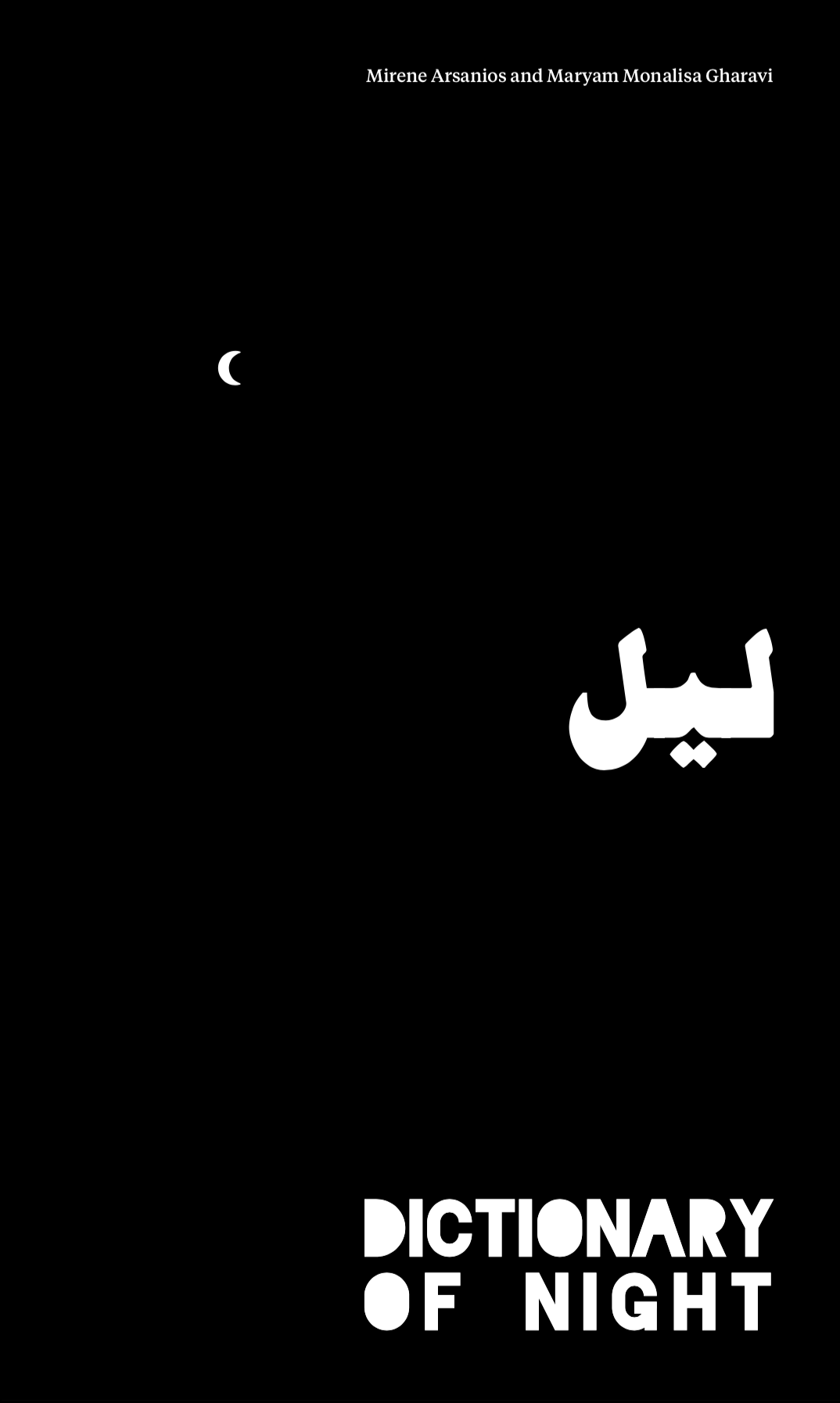 Click for the Chapters
---
The history of the night has long imagined a time in which dark, irrational forces exist in opposition to the day. Associated with images of danger and doom—from nightmares to witch hunts—darkness has been trapped in the cloak of caution. Yet the night is far from being the culprit of our looming extinction; it too is subjected to humankind's extractive impulses. Late capitalism, with its twin obsessions of relentless production and hypervisibility, has waged an out-of-sight crusade against night's last pockets of rest, refuge, and fugitive possibility. Mirene Arsanios and Maryam Monalisa Gharavi's collaboratively produced Dictionary of Night composes a subjective lexicon for the scenes of nightfall, where precarity, intimacy, and widespread infrastructural collapse meet the site of futurity.
Commissioned for Home Works 8
---
Mirene Arsanios is the author of the short story collection, The City Outside the Sentence (Ashkal Alwan, 2015). She has contributed essays and short stories to e-flux journal, Vida, The Brooklyn Rail, LitHub, and Guernica, among others.Arsanios co-founded the collective 98weeks Research Project in Beirut and is the founding editor of Makhzin, a bilingual English/Arabic magazine for innovative writing.She teaches at Pratt Institute and holds an MFA in Writing from the Milton Avery Graduate School for the Arts at Bard College. Arsanios currently lives in New York where she was a 2016 LMCC Workspace fellow, and an ART OMI resident in fall 2017. With Rachel Valinsky, she coordinated the Friday nights reading series at the Poetry Project from 2017-19. Her next book, The Autobiography of a Language, is forthcoming with Futurepoem (2021).
Maryam Monalisa Gharavi is an artist, poet, and theorist whose work explores the interplay between aesthetic and political valences in the public domain. Book publications include a translation of Waly Salomão's Algaravias: Echo Chamber (Ugly Duckling Presse), nominated for a PEN Award for Poetry in Translation; The Distancing Effect (BlazeVOX); and Bio (Inventory Press). Exhibitions, performances, screenings, and expanded publications include Matadero Museum, Nottingham Contemporary, Pioneer Works, Serpentine Cinema, Framer Framed, Townhouse Gallery of Contemporary Art, Parasol Unit, Pacific Film Archive, Triple Canopy, The Poetry Project, Women and Performance, Art in America, The Literary Review, The New Inquiry, among others. Her most recent solo exhibition was "Life of Mohammad" at Recess in 2019. She is a Lecturer at Northeastern University and Adjunct Faculty at New York University. She is currently a Creative-in-Residence at Brooklyn Public Library.